Transatlantic: Italy, France & Spain
on Norwegian Getaway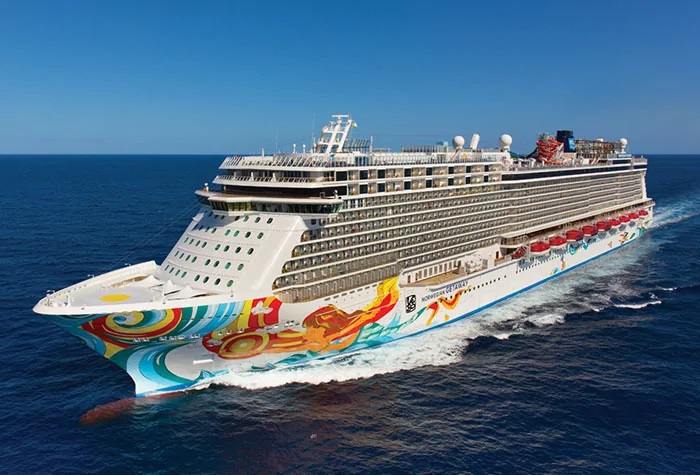 Get ready for a journey of a lifetime on a 16-day voyage that crosses the Atlantic on Norwegian Getaway. Before your relaxing cruise across the ocean, you'll stop in Barcelona. To share or not to share? That is the question, as you sample delicious tapas in the Gothic Quarter. When you arrive in Lisbon, wander the narrow cobblestone streets at your own pace and visit a historic museum. Then put on those Bermuda shorts because when you arrive at the Royal Naval Dockyard, it's all fun in the sun.
...
About Norwegian Cruise Line

Live life to the fullest. Smile bigger, explore further and relax longer, because with Norwegian you're free to let inspiration guide you from one experience to another. Only Norwegian gives you the freedom and flexibility to do what you want, when you want. With the most dining options, entertainment and onboard activities, your vacation will be one for the record books.
Dining

Savor a three-course meal and a great bottle of wine. Or grab a burger hot off the gr
...
| Day | Port | Arrive | Depart |
| --- | --- | --- | --- |
| 1 | Civitavecchia (Rome), Italy | | 5:00 PM |
| 2 | Livorno (Florence/Pisa), Italy | 7:00 AM | 8:00 PM |
| 3 | Cannes, France | 7:00 AM | 5:00 PM |
| 4 | Barcelona, Spain | 9:00 AM | 7:00 PM |
| 5 | Valencia, Spain | 6:00 AM | 2:00 PM |
| 6 | Malaga (Granada), Spain | 9:30 AM | 10:00 PM |
| 7 | Cadiz (Seville), Spain | 7:00 AM | 6:00 PM |
| 8 | Lisbon, Portugal | 9:00 AM | 5:00 PM |
| 9 | AT SEA | | |
| 10 | Ponta Delgada, Portugal | 12:00 PM | 7:00 PM |
| 11 | AT SEA | | |
| 12 | AT SEA | | |
| 13 | AT SEA | | |
| 14 | AT SEA | | |
| 15 | Royal Naval Dockyard, Bermuda | 9:00 AM | 3:30 PM |
| 16 | AT SEA | | |
| 17 | AT SEA | | |
| 18 | Miami, Fl | 7:00 AM | |